Lenka Klicperová (*1976)
Journalist and photographer Lenka Klicperová started her career as a journalist in 2002. Since 2004 she has been editor-in-chief of Lidé a Země magazine, one of the oldest periodicals in the Czech Republic which focusses on reportages from abroad.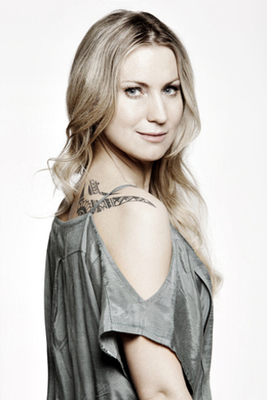 She's visited a number of African countries and worked in Angola, Namibia, Nigeria, Tanzania, Kenya, Ethiopia, Mali, Burkina Faso, Chad, Niger and DLR Congo. She visited Afghanistan several times as a journalist. Since 2014 she has focussed on the war against the Islamic State in Iraq and Syria. She explores women's issues and their position in the Third World; and works with reportage and portrait photography. Her work not only appears in the magazine she edits but also various other printed periodicals and on TV and radio. She also gives talks on her work and experiences. Since 2016 she has been a regular contributor with stories and photographs to the weekly magazine Reflex.
In 2008, together with Olga Šilhová she set up the civic association Femisfera, which aims to document the third world and especially women's issues. She often travels with one her colleagues from Femisfera. In Congo she explored the mass rapes in the eastern part of the the country which is affected by a long-drawn-out conflict; in Kenya she pursued the issue of female genital mutilation practiced by Samburu and El Mole tribes. She worked in Haiti immediately after the earthquake; in Chad she covered the problems of refugees from Darfur and child soldiers of the LRA in Uganda.
She is a co-author of several documentary films (Tears of Congo, Latim – Circumcised, Iraqi Women, Women in the Land of the Taliban, Unbroken) and a number of television reportages. In 2010 Mlada Fronta published Africa Within Us, a book made in collaboration with Olga and Václav Šilha, which precedes Africa Within Us II. Her work in Syria produced two books – In Sight of the Islamic State I and II, written together with Markéta Kutilová.
Lenka uses Canon cameras
Awards
2016 – Czech Press Photo nomination – video Feature: War on the Euphrates (with Markéta Kutilová)
2015 – Czech Press Photo – UNHCR Award – Refugee in Irbil, Iraq (with Jarmila Štuková) https://www.czechpressphoto.cz/…/detail/889/
2015 – Czech Press Photo – videosection – First Prize Feature for Unbroken (with Jarmila Štukova, Olga Šilhová a Markéta Kutilová) https://www.czechpressphoto.cz/…-video/2015/
2014 – Czech Press Photo – video section, First Prize Feature – Like a Virgin – with Jarmila Štuková (edited by Petr Kašpar)
Jury statement:
"The jury appreciated the well executed documentary on an unknown topic – the virgin tradition in the Albanian countryside which will be a unique discovery for the viewer."
2008 – Czech Press Photo – Honorable Mention – People of Omo, Southern Ethiopia, Everyday Life category. Photogallery here.
2009 – Tears of Congo – awarded at Ekofilm 2009 International Film Festival of Environment, Natural and Cultural Heritage and at Feminafilm 2009
Interviews (selection)
iDnes: She doesn't drive, swim or travel. What is an Afghan woman allowed to do and not allowed to do?
Guest of Radiožurnál – Monday's guest on Radiožurnál opened up unpleasant and delicate issues – female genital mutilation and child soldiers. Moderator Lucie Výborná talked to documentary photographer Lenka Klicperová.
iDnes: She has travelled through Iraq, Afghanistan and Africa. The Czech woman who travels, photographs and assists.
ČR2: Lenka Klicperova: Terrorists in Afghanistan don't respect anyone
DVTV – interview with Daniela Drtinová
ČR 2: Journalist Lenka Klicperová: "What is a hazard and what is not hazard? The answer is different for different people"
ČT – Lady's move
ČT 24 News commentary – The situation in Iraq
Thirty thousand Syrians returned to Kobani. They don't want to go to Europe, the journey is too expensive, journalists say.
Czech women visited devastated Kobani where even children are showing the V for Victory sign.
Czech journalists returned from Kobani: "Our home is here! We shall remain here!" say the people in Kobani
Czech women's testimony from Syrian Stalingrad: The experience of flash bombs and an ISIS attack.
The burning wells near Mosul can't be described easily. It was difficult to breathe
Lenka Klicperová: a bullet doesn't chose between a man and a woman.
It's addictive; I see snipers, I hear gunfire, says war journalist Lenka Klicperová
Lenka Klicperová: Why do ordinary Iraqis support the Islamic State?
INTERVIEW: War photojournalist Lenka Klicperová talks about her most recent trips to Iraq and Kurdistan and other things
Lenka Klicperová: Journeys there and back
Lenka Klicperová: The Islamic State is not the only Syrian problem
"Instead of a Kalashnikov, I shoot with my camera", says Lenka Klicperová about her work
About me