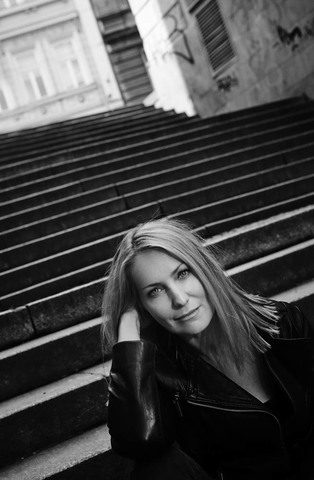 The journalist and photographer Lenka Klicperová started her career as a news reporter. From 2004 till 2018 she worked as editor-in-chief of Lidé a Země magazine, one of the oldest periodicals in the Czech Republic which focuses on reportages from abroad.
Klicperová visited a number of African countries and worked in Angola, Namibia, Nigeria, Tanzania, Kenya, Ethiopia, Mali, Burkina Faso, Chad, Niger, and DR Congo. She also traveled to Afghanistan several times as a journalist. Since 2014 she has covered the war against the Islamic State in Iraq and Syria.
Since 2016 she has regularly contributed stories and photographs to the Reflex weekly magazine. She is a co-author of several documentary films (Tears of Congo, Latim – Circumcised, Iraqi Women, Women in the Land of the Taliban, and Unbroken) and a number of television reportages. Her work appears in the various printed periodicals and on TV and the radio. She also gives talks on her work and experiences. She has received nine awards and nominations in the Czech Press Photo competition, both for photographs and video production.
In 2010, Mlada Fronta, a Czech publishing house, released a book called Africa Within Us which Klicperová wrote in collaboration with Olga and Václav Šilha and which became a prequel to Africa Within Us II. Her work in Syria resulted in two books entitled In Sight of the Islamic State I and In Sight of the Islamic State II, which were coauthored by Markéta Kutilová. After their first trip to Syria Klicperová and Kutilová started a public fundraiser called SOS to support schools and health care facilities in the northern Syrian town of Kobani.
In 2018 Klicperová and Kutilová published their third joint book In the War. It tells stories of people affected by the war in Iraq and Syria.
In 2018 Forbes magazine (Czech edition) rated Klicperová among 18 most inspiring people of the year.
Klicperová cooperates with a number of the Czech media, primarily with the Reflex magazine and the Reporters of Czech Television. She also lectures at the University of Hradec Králové.